About DII, LLC
DII, LLC represents a family of advanced technology companies that serve both government and commercial clients across many sectors.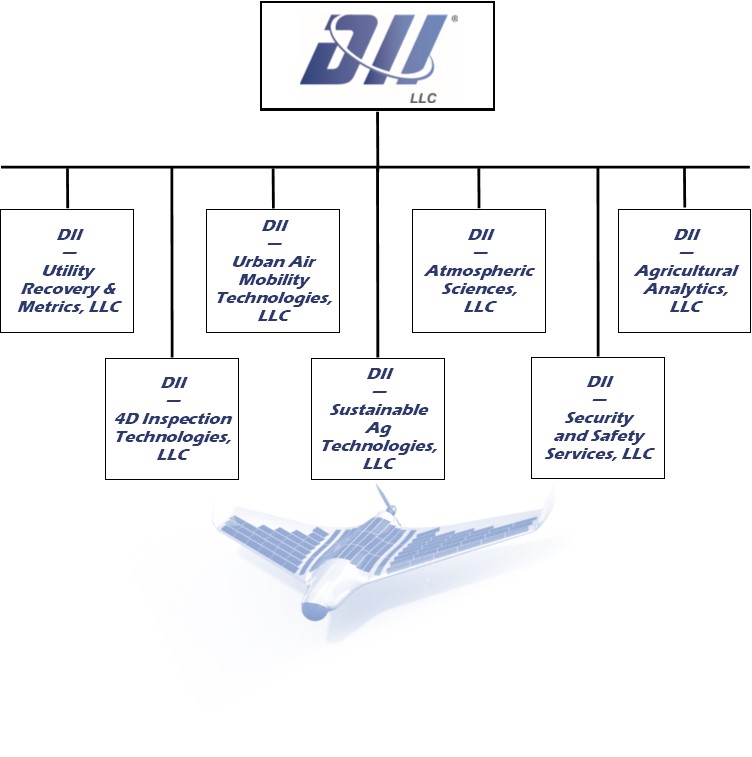 DII Company Profiles:
DII - Urban Air Mobility Technologies, LLC - Developing technology and services to support the emerging urban air mobility industry, including electric vertical take-off and landing aircraft.
DII - Agricultural Analytics, LLC - Developing machine-learning and artificial intelligence technology to process agriculture data and information from advanced data collection systems, including unmanned systems and robotics to enhance agricultural producer yields.
DII - Sustainable Ag Technologies, LLC - Developing advanced sustainable agricultural production techniques and technologies including aquaponic, aeroponics, and hydroponics utilizing emerging robotic and sensor technologies.
DII - 4D Inspection Technologies, LLC - Developing technologies and techniques for utilizing robotic and unmanned technologies to perform inspection tasks that are "dull, dirty, dangerous, and difficult" in the oil and gas industry.
DII - Atmospheric Sciences, LLC - Developing technologies to assist with next generation weather modeling and forecasting tools for targeted industries and clients. Technologies include next generation robotic and unmanned systems sensor platforms along with "crowd-sourced" weather collection systems.
DII - Security and Safety Services, LLC - Developing technologies to assist first responders and civil security agencies in using emerging technology such as unmanned technologies to reduce risk and enhance responsiveness.
DII - Utility Recovery & Metrics, LLC - Developing tools and systems for the utility industry to protect and enhance operations and utility networks.
Our Original Core Technology
DII's original focus was on technology that enables extended endurance operation of small UAVs including solar-powered and solar-augmented systems. DII has developed advanced power management technology with features such as maximum power point tracking (MPPT) for solar energy and other technology to ensure that small electric-powered UAS can operate optimally with maximum range and endurance. DII has also developed the Eturnas line of solar-powered UAV systems. DII technology has also been used to support mobile ground power for remote austere environments.
For information on teaming or for more information on DII's products and services, please contact info@dii1.com or call 405-307-0397.
Our Leadership
James L . Grimsley
James Grimsley is the founder and President/CEO of DII, LLC. Mr. Grimsley is also an Associate Vice President for Research at the University of Oklahoma – Norman Campus (OU). Mr. Grimsley was also the founding director of the OU Center for Applied Research and Development (CARD). Mr. Grimsley is a graduate of the University of Oklahoma with a B.S. in Aerospace Engineering and an M.S. in Mechanical Engineering. Prior to starting DII, Mr. Grimsley was a Division Chief Engineer and later an Assistant Vice President with Science Applications International Corporation (SAIC). Prior to SAIC, Mr. Grimsley was a civilian electronics engineer withthe United States Air Force.
Mr. Grimsley has been active in a variety of state organizations and initiatives. Mr. Grimsley organized the Unmanned Systems Alliance of Oklahoma (USA-OK), now a state chapter of the Association for Unmanned Vehicle Systems International (AUVSI) and served as founding president. Mr. Grimsley also organized and led Oklahoma's first six UAS Summits beginning in 2009. In 2011, Mr. Grimsley was appointed by Oklahoma Governor Mary Fallin to the Governor's UAS Advisory Council and served through 2015. In 2016 Mr. Grimsley was appointed by the FAA to the FAA's Drone Advisory Committee - Subcommittee.
Mr. Grimsley has served in a multitude of advisory capacities. In 2017 Mr. Grimsley was selected as a non-resident fellow for the Noble Research Institute. Mr. Grimsley has also served on advisory committees for higher education, vocational training programs and secondary education. Mr. Grimsley is active in scholarly research in both technology and law, including co-authorship of a recent paper published in the William and Mary Law Review.
In 2014, Mr. Grimsley was named the AUVSI Member of the Year for contributions to the UAS industry and advocacy work as well as his state and national leadership in the UAS industry. Known both nationally and internationally, Mr. Grimsley is one of the leading recognizable Oklahoma figures in the UAS industry, and is frequently interviewed in the international media (The Economist, Fortune, The Guardian Newspaper, CNBC, etc.). Also in 2014, Mr. Grimsley was recognized as an Oklahoma Innovator of the Year by the Oklahoma Journal Record newspaper.
Warren W. Thomas
Mr. Thomas has more than forty years of experience in private-sector business including banking, oil & gas, real estate investments/development and technology-commercialization.
His banking experience included interests in four commercial banks, one of which, (with another investor) comprised majority ownership in a downtown Oklahoma City bank, where he served as Chairman of the Board and CEO. He has also served on numerous Executive and Loan Committees.
Mr. Thomas excels at creatively engineering complex financial strategies with an emphasis on enhancing shareholder value and mitigating risks. He has started and/or acquired numerous companies over four decades and led them to successful growth and incremental value-creation. Thomas was a founding partner of Acorn Growth Companies, now AGC Aerospace, a private-equity firm with over $200 million under management. AGC companies are primarily engaged in composite materials, sensors, non-destructive inspection (NDI); and intelligence, surveillance and reconnaissance (ISR) missions, all related to the Defense and Commercial Aviation industries.
He is a licensed real estate broker (over 40 years) and a seasoned commercial and industrial real estate developer with recognized expertise in sector-specific development, i.e., industry clusters like the Tinker Business & Industrial Park (TBIP), which is adjacent to Tinker Air Force Base. TBIP (www.tbip.net) was conceived and developed by Thomas in 1985 and today serves as a working model of cluster development within a targeted industry - defense and aviation/aerospace - and consistently exceeds $1 billion in contracts with the Tinker Air Logistics Center and the Department of Defense.
Mr. Thomas has enjoyed a 30-year partnership with the 100 (plus) year-old Flintco Companies of Tulsa, OK. He also serves as Managing General Partner of TBIP, home to more than 40 prominent defense contractors such as Rockwell Collins, Pratt & Whitney, General Electric, Rolls-Royce, General Atomics, Lockheed, Spirit Aero Systems, IAP, KBR Wyle, Choctaw Defense and Chromalloy - among others. This highly-synergistic aviation/aerospace cluster includes strategic relationships with Oklahoma's research universities, community colleges and Oklahoma's CareerTech institution for targeted job-creation and workforce development. Employment at TBIP averages over twice the State's per-capita income consistent with Thomas' goal of creating high-value, high paying careers. Upon completion, TBIP's master-planned, one-million square foot campus has been forecast to exceed $100 million in asset value. Today it represents the largest aggregation of technology companies in the State of Oklahoma.
Thomas is also a principal in and co-founding partner of Oklahoma's "Unmanned Systems Innovation Center" (USIC). Located within the TBIP aerospace campus, the facility envisions an emphasis on research and development, technology commercialization, education, certification, and training, while nurturing entrepreneurship linked to its own multi-tier capital facility (www.usic-ok.org). As Managing Equity Partner of DII, LLC (formerly Design Intelligence Inc., LLC), Thomas continues to help shape the emerging unmanned systems industry, not only in Oklahoma but also in the surrounding region and on the national platform (www.dii1.com).
In 2004, Mr. Thomas was appointed by Governor Brad Henry to the Governor's Council on Science and Technology. He is now in his third term after being reappointed by Governor Mary Fallin. The Council reports to the Cabinet Secretary for Science and Technology (www.ok.gov/ocast/STCouncil.html) and is charged with formulating a blueprint for advancing science and technology related policy initiatives based upon STEM (science, technology, engineering, and math) education for the State of Oklahoma. In his original capacity on the Council, Thomas was charged with overseeing the Center for Aviation Systems Support & Infrastructure (CASI), a consortium of Oklahoma's higher-education institutions organized for the purpose of supporting the State's aerospace sector. He is currently a Foundation Trustee for the widely-respected Oklahoma School for Science and Mathematics (OSSM) www.ossm.edu) and serves on the Advisory Board of The National Research Traineeship (NRT) program at the University of Oklahoma (https://eos3blog.wordpress.com/advisory-committee), funded by the National Science Foundation (www.nsf.gov). Previously, he was selected to serve on the Base Commander's Executive Advisory Committee for the Tinker Air Logistics Center. Thomas served as a Director of the Oklahoma Aerospace & Defense Alliance (OADA). In 1989, he was instrumental in helping author and advance Tax Increment Financing (TIF) legislation sponsored by then Oklahoma State Rep. Bill Brewster (later U.S. Congressman). Submitted to Oklahoma voters as a constitutional amendment, TIF gave businesses a new capital improvement financing vehicle, a measure that has resulted in billions of dollars of investment in development and growth throughout the State of Oklahoma.
In accord with his passion for entrepreneurship and high-quality education, Mr. Thomas is developing Green Valley Farms Living Laboratory (GVF LL), a 3,500-acre (mol) property located in Cleveland and McClain Counties, Oklahoma, as a true "Living Laboratory" (www.gvflivinglaboratory.com). It is less than 15 minutes south of the University of Oklahoma's South Campus, a Multi-Disciplinary Research Center. As a "Living Laboratory", GVF LL has partnered with the University of Oklahoma (in its second year), The Samuel Roberts Noble Foundation (currently Noble Research Institute) and DII, LLC to provide a site for a wide-range of research and demonstration projects utilizing autonomous and unmanned systems, most notably with research universities and laboratories, targeted to the creation of a growing portfolio of entrepreneurial endeavors.
In 2013, Mr. Thomas was selected as one of 200 business leaders from across the United States to serve on the GE Education Foundation. His role is to advocate for academic rigor in the State of Oklahoma, particularly relating to "college and career readiness." He is also a founding member of the Board of Directors for "One Safe Place", a Family Justice Center in Shawnee, Oklahoma. Mr. Thomas' long-term professional associations include (among others) the Urban Land Institute (ULI) and the Association of University Research Parks (AURP).
Mr. Thomas has attained numerous professional designations via specialized coursework in banking, finance, real estate and the petroleum industry. He has lived and worked in and around Oklahoma virtually all of his adult life.
Important note about operating unmanned aerial systems (UAS) in the U.S. national airspace system (NAS): DII complies with all existing Federal Aviation Administration (FAA) restrictions and regulations on operation of unmanned aircraft. We do not support or condone operation of UAS that is in violation of FAA regulations or any other laws. Please fly responsibly.